Pet Shop in Littlehampton – Best Pet Supplies Online
Jw Dog Puppy Pouch Lamb With Rice 150g
9003579308240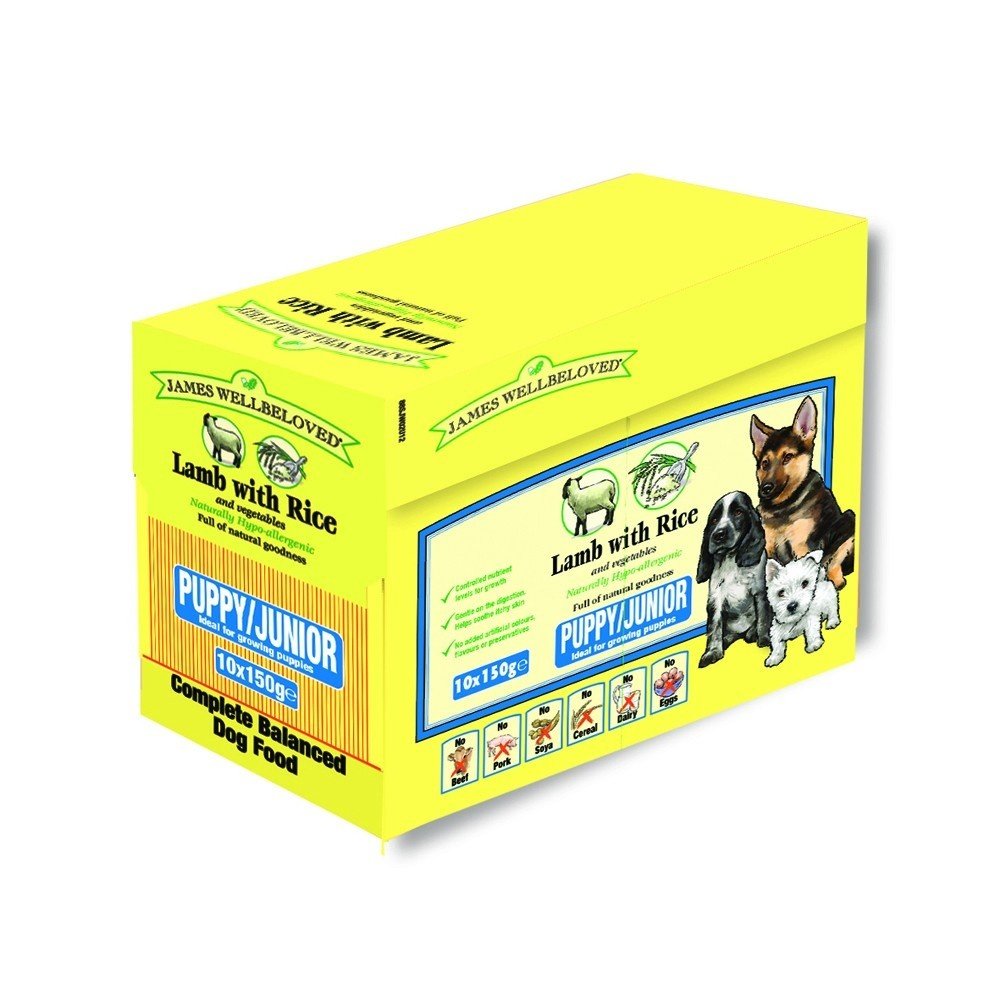 James Wellbeloved Puppy wet food is made from a single source of meat protein with rice and vegetables to reduce the risk of food intolerances. It also contains beneficial added ingredients such as alfalfa, seaweed and linseed to aid your p digestion and soothe itchy skin.
James Wellbeloved Puppy pouches contain no artificial colours, flavours or preservatives, no beef, no pork, no wheat or wheat gluten, no dairy products, no egg and no soya.
Composition (Puppy Lamb variety): lamb meat, rice, peas, carrots, calcium carbonate, sugar beet pulp, sunflower oil, linseed oil, sodium chloride, seaweed, alfalfa, tomato
Minimum levels: lamb (26%), rice (4%), vegetables (4%), linseed oil (0.2%), sugar beet pulp (0.5%)
Additives per kg: Vitamins: E671/Vitamin D3 (150 iu), Trace elements: E1/iron (6mg), E2/iodine (0.5mg), E5/manganese (3.6mg), E6/zinc (29.2mg)
Analytical Constituents: moisture 82%, protein 6.5%, crude fibres 0.5%, fat content 4.5%, crude ash 1.2%
Your Local Pet shop – For all your pet supplies, Love Pets Direct aims to be the best UK supplier of everything pet. We're also very experienced in our product range, so even if you don't quite know exactly what you need, our experts can point you in the right direction.
We have the best accessories for cats and dogs:
Dog Harness, Cat Harness, Rabbit Harness, Dog Training Harness, Dog and Cat Collars and Dog Leads, Dog Figure 8 Training Rope Leads, Health Monitors, Cat and Dog Grooming accessories, Cat Beds, Dog Beds, Pet Blankets, Pet houses and many more.
We have Veterinary products for flea protection, pet skin care, pet health, teeth care, wormers and pet anxieties, and many more.
We're not a pet store that put's profit before care, we love all pets and stock many foods, treats and accessories for Rabbits, Gerbils, GuineaPigs, Degu and Rats.
We care about what our customers think and want to offer a full and complete service
We offer FREE Delivery in the surrounding areas of Littlehampton, Arundel to Worthing
Wild Bird food, treats and accessories
Hedgehog Food and accessories
"If we don't stock it, we will get it, always happy to help"
WE STOCK NATURAL INSTINCT DOG FOOD​
Raw Dog Food & Raw Cat Food​
Raw Cat Food and Raw Dog Food your pet will love!
​Do you need a large bag of Dog or Wild Bird Food?
We offer FREE Delivery in the surrounding areas of Littlehampton, Arundel to Worthing​
We have a good selection of pet supplies online, if you don't see what you need, please let us know, we will try our best to get it for you.
You're always welcome to pop into our Littlehampton Shop and say Hi!